Head Springs Depot is all about solid wood furniture. In fact, it is all you will find when shopping for wood pieces in our warehouse. Let us break down the differences between types of wood furniture and why you should always choose solid wood.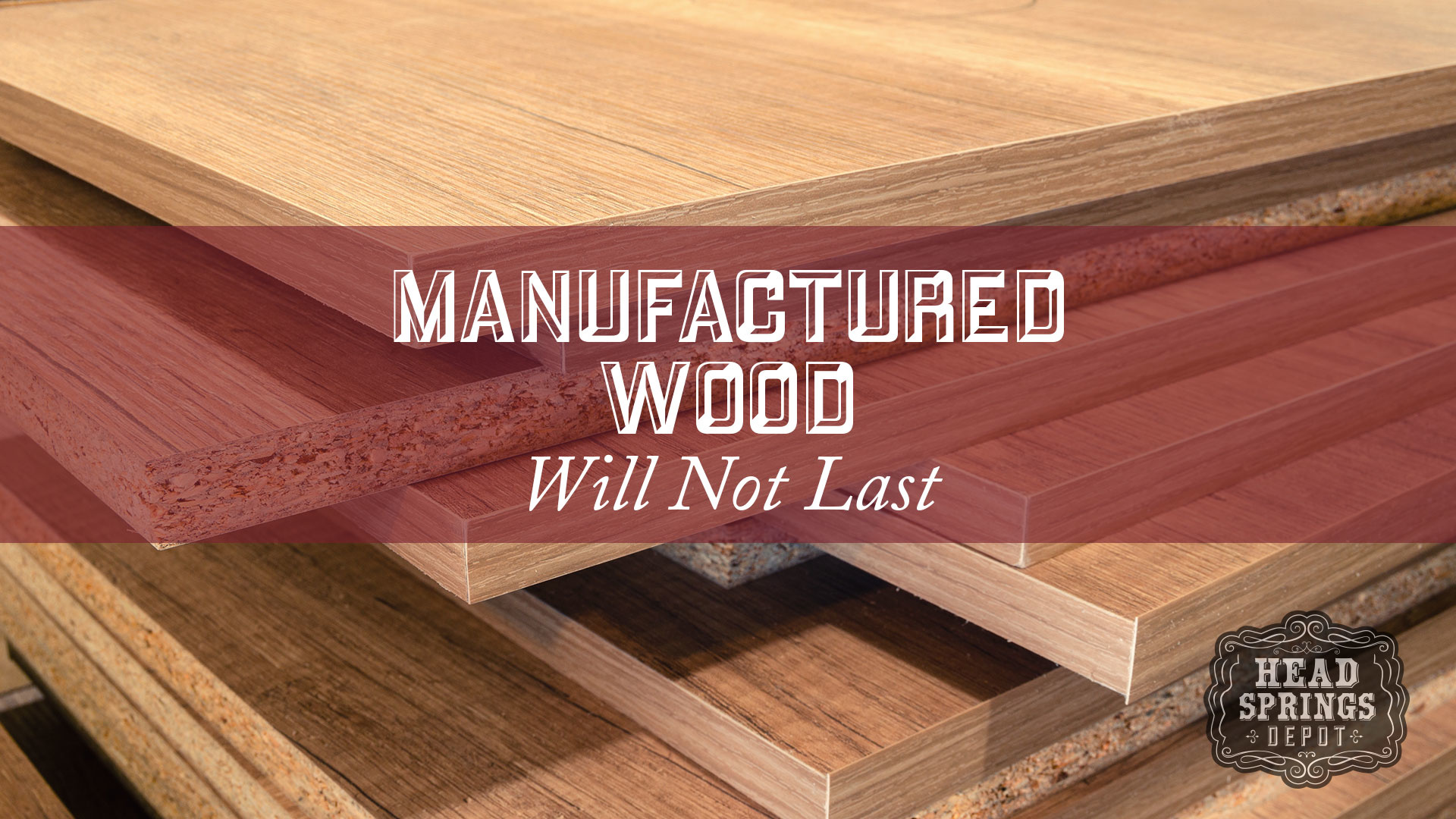 Manufactured, or engineered, wood is a product that is man-made in a factory to look like wood… grain lines and all. However, manufactured wood is not a natural product and is created using a mixture of materials, such as sawdust, wood fibers and chemicals. There are many types of manufactured wood products found in furniture. 
Some of the most common types are:
Plywood - Wood veneers bonded together to create a flat smooth sheet of wood.
Laminate - Synthetic materials used to form a thin layer that looks like wood.
Particle Board (Chipboard) - Made from wood chips and shavings that are bonded together with resin.
Fiberboard - Hard or softwood fibers bonded together with wax, resin and heat to create a dense piece of wood.
Veneer - A thin layer of real hardwood bonded to a dense piece of engineered wood, such as MDF.
Furniture made from engineered wood tends to have a less expensive to moderate price point, but are often easy to damage and cannot be easily repaired. Scratches, water stains, cracking and warping are common problems among manufactured wood pieces. While each type may have its own set of pros and cons, they are all similar in that they DO NOT last as long as solid wood.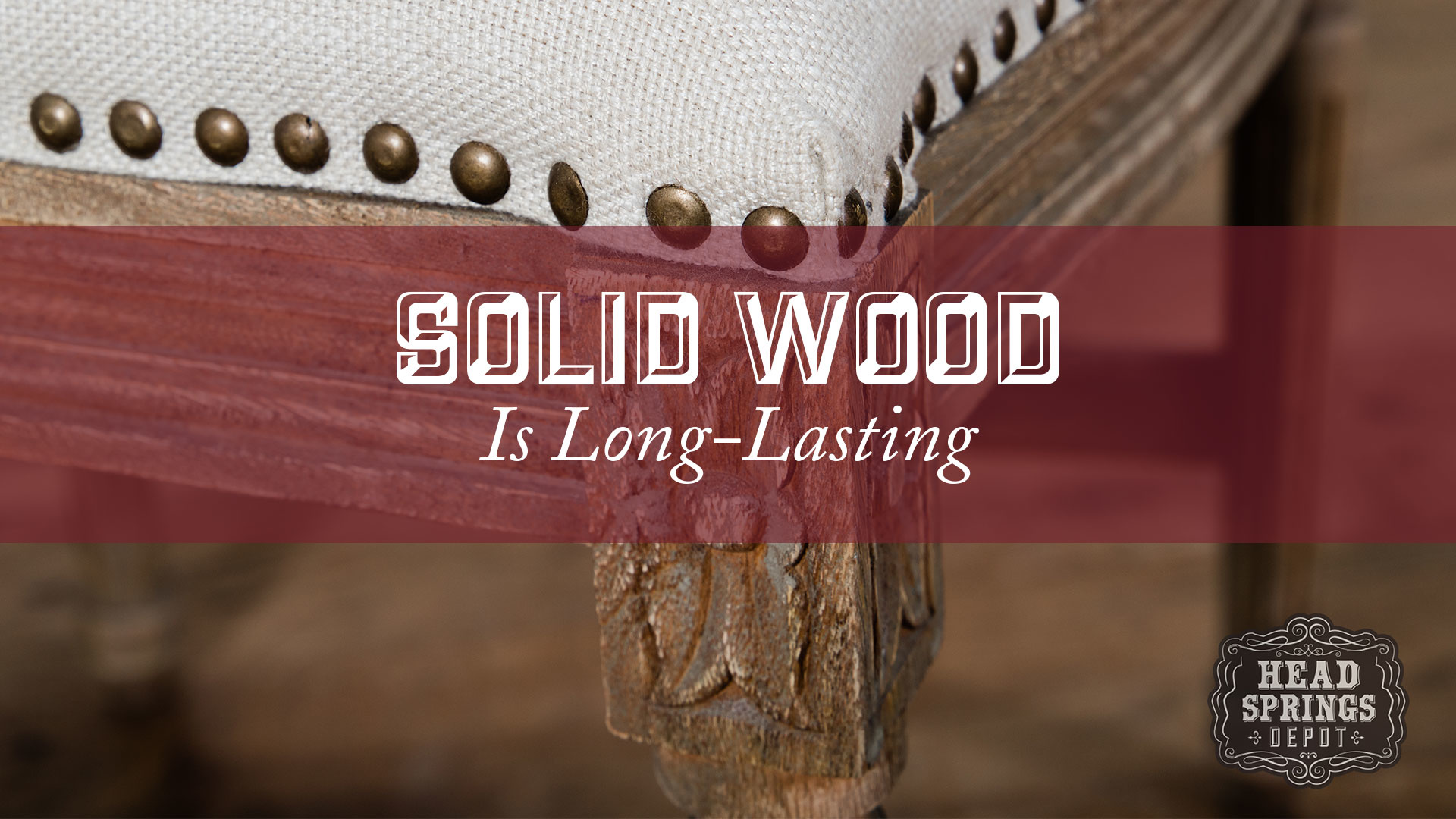 While many popular furniture companies choose to use manufactured wood in their products, Head Springs Depot is committed to using only solid wood in our furniture. Why's that? We're glad you asked…
    1. Restoration and Modification
Solid wood furniture can be modified or restored easily. Should your piece of furniture start to show wear or minor damage, such as dings and scratches, it can be repaired. Solid wood furniture is also easy to paint and stain to give the piece a fresh look for your home, especially as your style evolves. 
    2. Durability and Longevity
Furniture made from solid wood is very durable and made for everyday use in your home. With proper care, it will age beautifully and last for decades. Because of its enduring quality, solid wood furniture often becomes heirloom pieces as its passed down through generations. Not only is it long-lasting, but it also retains its value, and can even increase in value over the years. 
    3. Classic Character
Solid wood furniture is very versatile in the home and pairs well with a range of styles and other furniture and home decor items. Each piece of wood furniture is also unique in its character. Since it is a natural product that is harvested from wood sources instead of being manufactured, no two pieces are exactly alike.  
    4. Sustainability
At Head Springs Depot, we choose to use sustainably sourced wood, often plantation grown pine from Central America or mango wood from India. Solid wood furniture is also free of toxic chemicals and uses very little energy during the production process, while manufactured wood uses a tremendous amount and toxic materials. 
Furniture can also be made of recycled wood from barns, floors and more. Giving this wood new life through a beautiful piece of furniture to be cherished for years also adds to the eco-friendliness of solid wood. 
How Do You Tell The Difference Between Solid Wood and Manufactured Wood?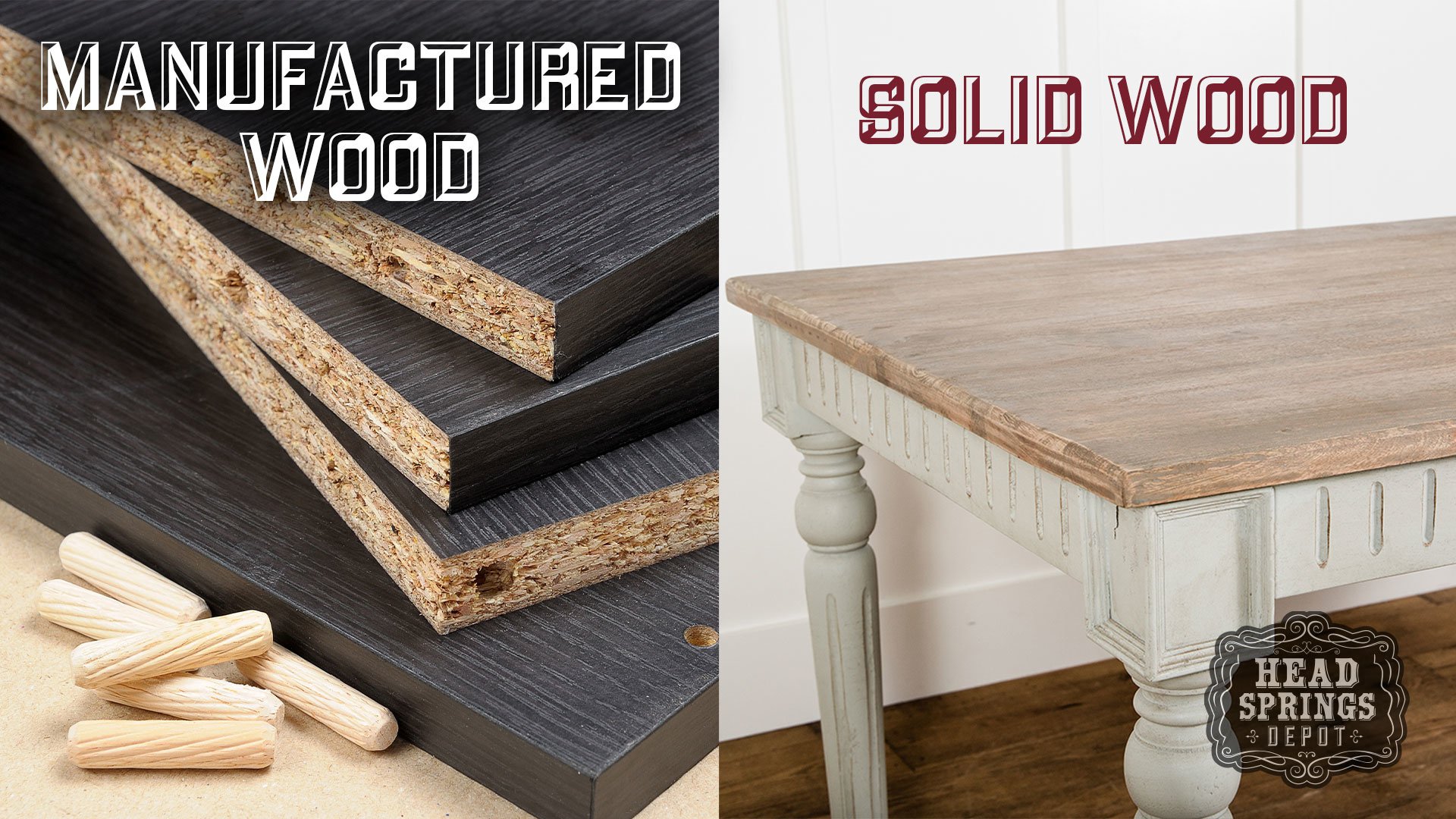 Appearances can be deceptive, but there are key differences in solid wood and manufactured wood to help you determine this.
 
Weight - Solid wood furniture is very heavy, whereas furniture made from manufactured wood tends to be light-weight.
Grain - If you can feel the grain texture and see a variation in the pattern, it is most likely solid wood. The grain pattern in veneer often repeats and is smooth to touch. Solid wood also has no grain pattern at the edges, whereas the edges of veneer have a horizontal grain pattern.
Sides/Bottom - If your furniture is veneer, you will be able to see where the sheet of veneer attaches to the front of the piece. Laminate will also cover the furniture from top to bottom.
Details - Furniture with ornate detailing is always made of solid wood. Laminate and veneer cannot be carved. 
Buying new furniture comes with a lot of decisions on your part: style, size, budget, functionality… you shouldn't have to worry about the quality too. Let us help you find the perfect solid wood piece for your home at an affordable price. We only sell the best for less!
We are here to help you with all your furniture, mattress and home decor needs. Contact us today or visit our convenient Middle Tennessee location.