TALK OF THE TOWN - Tips for Selecting Furniture
Seth Hall from Head Spring Depot gave tips on selecting furniture to fit your home and lifestyle. Head Springs Depot staged this year's I Am Home Raffle house.
Head Springs Depot Showroom
WE DO HOME
Head Springs Depot Est. 2010 is a family owned and operated business that is focused on getting high-quality, stylish products to customers at the best price possible. We work factory direct with manufacturers to provide discounted mattresses, solid wood furniture, decor and more!
LEARN MORE
JOIN THE HEADSPRINGS FAMILY
Subscribe to get notified about product launches and special offers.
Looking for a new dining table? Use the handy 3-Foot Rule to ensure you know the right size table to fit your space! 📏 You need a minimum of 3 fe...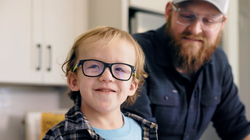 When Head Springs Depot's co-owner, Seth Hall, heard about the Home With Heart project with Willow Branch Homes to benefit Monroe Carell Jr. Child...
Please come visit us in Downtown Franklin, Tennessee.