Head Springs Depot is proud to bring you these top, American-made upholstered furniture lines. Mayo, King Hickory, England and our very own HSD line, Fox & Roe have a shared vision of high-quality furniture made in America, by Americans, for Americans. We're excited to introduce you to the makers behind each of these iconic lines, made right here in the USA!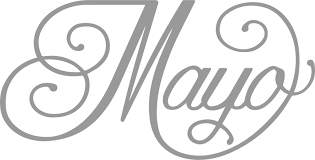 Their Story
In 1965, Linn Mayo started Mayo Furniture in Texarkana, TX with a mission to provide the highest quality upholstered furniture to the "Greatest Generation" who had returned from World War II to build families. He was committed to crafting furniture made in America by Americans, which became the guiding force behind Mayo's growth and success for the many years that followed. 

What started as a modest, but healthy furniture factory in east Texas quickly grew and has expanded several times ever since. Over time, the family embraced new technology and trends in upholstery manufacturing, allowing them to continue to engage each new generation of customers. They continue to focus on customization, fashionable designs, unbeatable comfort, quick delivery and exceptional value, all backed by their well-trained workforce and effective workforce. Family is their #1 priority, and "Made in the USA" is a big part of their mantra. 

Quality Assurance
Each product is carefully built with top of the line materials and expert craftsmanship to provide long-lasting comfort and durability in your home. 
✔️ Cushions are crafted with multiple layers of padding, including high-density foam paired with softer foam and polyester fiber, to ensure the most comfortable seating. 
✔️ Luxury, rounded arm tops are built with durable polyurethane for the perfect shape and are reinforced for comfort in the same way as the seat cushion. 
✔️ Mayo seating systems are supported by 8 gauge sinuous springs spaced to ensure an equal and even supported seating experience. 
✔️ They use smart frames built using the time-tested mortise-and-tenon joining system, reinforced with hardwood and interior stretcher systems for a sturdy foundation. 

Our line of Mayo upholstered furniture is completely customizable and delivered to you in just 4 weeks! You choose the shape, size, fabric or leather, leg finishes, nailhead trim (or none), throw pillows (included with your purchase) and more!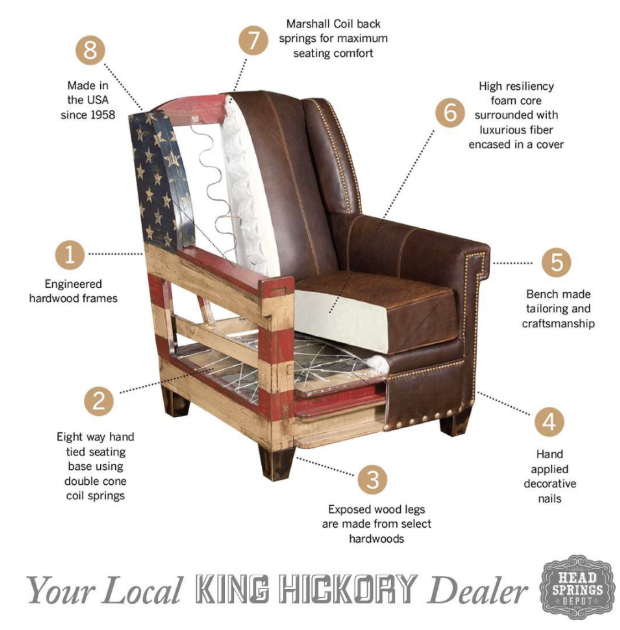 Their Story
King Hickory Furniture Company began manufacturing luxury upholstered furniture in Hickory, North Carolina in 1958. For over 50 years, this family-owned company has proudly provided the high quality, upholstered fabric and leather furniture to their customers. 

Hickory and the Catawba Valley area of North Carolina are world-renowned for their upholstered furniture due to their close proximity to some of the finest Appalachian hardwoods and a proud, skilled workforce. 

Quality Assurance
Between high-quality materials and expert craftsmanship, King Hickory is proud to design American made furniture that provides lasting beauty and comfort for everyday life.
✔️Solid Frames: Kiln-dried hardwoods with maple rails are the foundations for long-lasting, high-quality furniture. King Hickory incorporates the use of cad/cam technology to create these intricate hardwood plywood frames, which allows designers to create frame shapes that were not possible in the past. 
✔️Master Craftsmen: With a work environment that fosters motivation and self-accountability, King Hickory has been able to attract and keep some of the area's finest craftsmen, many who have been with the company for more than 25 years. 
✔️8 Way Hand Tied Springs: King HIckory's springing system is 8-way hand-tied, a benchmark for seating in all fine upholstery. This system is paired with luxury cushioning materials and fine fabrics and leathers for premium style, comfort, and satisfaction
✔️Polyurethane Cushions: Premium, highly resilient polyurethane cushions are used in each piece to ensure consistent shape and comfort. King Hickory also ensures ultimate comfort by using double cone coil springs of high carbon tempered steel.
✔️Fine Fabrics: Top-of-the-line fabrics are hand matched and perfectly fitted to cushions and frames for a luxurious, long-lasting look. 
Luxury, quality, and style are top of mind when King Hickory builds each piece of their superior furniture. Customize the perfect piece for your home with their wide selection of timeless upholstered fabric and fine leather furniture. We're proud to be your local dealer for this exceptional line!

Their Story
Charles, Eugene, and Dwight England co-founded England Furniture in 1964, in the quiet foothills of East Tennessee. Their goal was to not only employ the skilled and hardworking craftsmen and craftswomen of Appalachia but also craft quality upholstered furniture. 

Today, England Furniture is still recognized for its high quality and short build cycle, as well as their dedication to the skilled Tennessee workers who build each piece of custom furniture to last a lifetime. 

Quality Assurance
England offers a broad selection of countless combinations to help customers create unique custom furniture that is suited for their home. Each piece is built to last a lifetime due to their detailed and expert craftsmanship, paired high-quality materials.
✔️England goes above and beyond standard industry testing to evaluate performance, comfort, and durability. 
✔️They believe it is what's underneath the fabric that matters most when it comes to long-lasting furniture. Their frames are built with solid wood that exceeds industry standards. They use 14 computers to cut each frame with extreme precision and perfection. Their frames are built with ¾ and ⅞ inch plywood that is reinforced with hardwood for superior durability and structural integrity. 
✔️England sofas use a coil-enhanced foam cushion, their latest ground-breaking technology, for luxury comfort and support. These cushions feature 9 spring coils embedded in the foam core of the cushion with two 24 lb foam sections attached to the top and bottom of the core. 

Our Story
Fox and Roe is a Head Springs Depot exclusive brand, dedicated to bringing you affordable, classic furniture that stands the test of time, both in quality and timeless good looks. 
Inspired by the old English tradition of hunting fox and roe deer, our high-end furniture line will withstand the winds of trend changes and adapt to your home style as it evolves through the years. From farmhouse to mid-century modern and everything in between, these signature pieces will be there, making memories with you and your family along the way. Each piece is made right here in the USA! 

Quality Assurance
Designed by our team with factory direct partnerships, our products are crafted with top-of-the-line materials to ensure each unique piece will last generations.
✔️Sustainably-sourced solid wood 
✔️Authentic, top-grain leather and fine fabrics
✔️Real paints and stains
✔️No assembly required
...ALWAYS. That's our promise to you. 
Our non-commissioned, knowledgeable staff are experts when it comes to all of these fine upholstered furniture lines we carry at Head Springs Depot. We can help you sort through the endless options of customization to ensure you find the furniture options that represent your style while also providing supreme comfort and long-lasting durability in your home. We also offer 0% financing options and affordable delivery in the Middle Tennessee area. Come see the value that Head Springs Depot brings to the home through our high-quality furniture at an affordable price!